First let me say that I also researched the crap out of the pack n plays. Sam and I travel a lot so I definitely wanted something light and easy to carry. We take car rides and plane rides so it had to be something easy to take on both modes of transportation.
This little bugger is only 11 pounds! That's ultimately why I picked this pack n play over others. It is small enough to be a carry-on on the plane or light enough to pack in a suitcase with room to pack clothes around it.
It is sturdy and has great colors (you all know I loooove black and grey).
Such easy set-up! I thought the 4 moms was easy (and beautiful) until I saw that it was almost 40 pounds! That is crazy heavy for a simple pack n play. Plus doesn't that defeat the purpose of the "pack" in pack n play? How are you supposed to pack that up and carry it anywhere?
My only two cons is that it is expensive and doesn't include a bassinet. We used it as a bassinet on trips anyway and I just bent down to pick her up.
I also found the Graco Jetsetter which I bought for my mother in law this Christmas. It is black, small and folds up nicely. Weighing in at around 14 pounds, half the price and includes a bassinet – I'd say the Graco Jetsetter might be even better than the Guava.  It is a little smaller so I could see as Grace grows it could be too small for her. The Guava is a little bigger so I can see it be useful for longer.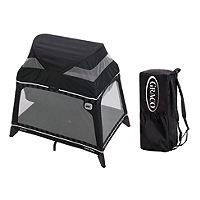 I don't really understand the whole canopy thing. I guess to block the sun if you use it outside? I doubt my mother in law will find it useful but its included!
Overall I'm happy with the purchase of the Guava. I really feel like it matches our lifestyle but I don't think it is for everyone. A more stationary (heavy with bassinet and changing table) pack n play is fine if you only plan to use it in your house. Also you can buy the Graco jetsetter if you want something lighter to travel with.